Whether you're looking for a choral concert or an arts festival, you can find it all here! In addition to the groups listed below, musical and artistic groups from the community often use our space for local performances and events. Be sure to check our calendar for upcoming concerts!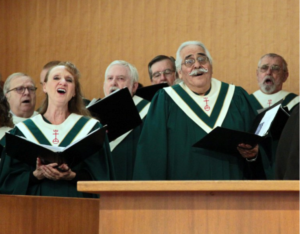 Directed by Dr. Jonathan Campbell, the Chancel Choir provides a variety of music for the Sunday 10:00 worship services. Rehearsals are Wednesday evenings at 7:30 pm and Sunday mornings at 9:00 am. 
For more information, email jonathan@claremontucc.org.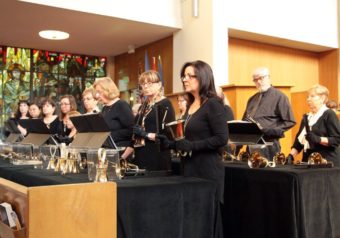 Directed by Bill and Lee Waggener, the Choral Bells ring on two sets encompassing six and a half octaves of Malmark handbells and ChoirChimes. The Choral Bells ring for worship several times during the year and at special events around Southern California. The group rehearses on Mondays at 7:00 pm and all ages are welcome.
For more information, email belldirectors@claremontucc.org.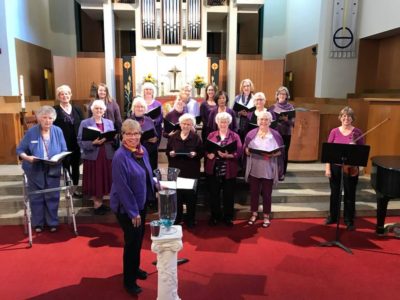 Joyful Voices is a treble voice choir that rehearses on Sunday mornings at 9:00 am. Directed by Lee Waggener and Charlotte Van Ryswyk, the group enjoys exploring different genres of music and contributes regularly to the worship services.
For more information, email wagglee@gmail.com.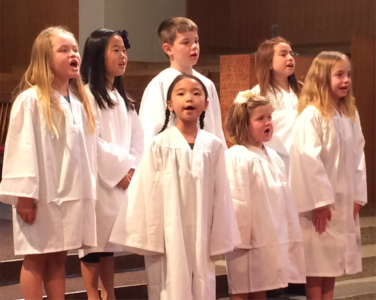 The CUCC Children's Choir is led by Director Elizabeth Chan and rehearses on Sunday mornings at 9:00 am.  They perform a several times a year at special services and at the 10:00 am Sunday worship service. The group is open to any elementary-aged children who wish to join.
For more information, email elizabeth@claremontucc.org.
The Organ Task Force of CUCC was formed in support of the incredible Glatter-Goetz/Rosales Organ in our Sanctuary.  The Task Force organizes many annual fundraisers to support the maintenance of this instrument as well as a yearly Organ Concert Series. This 2017-2018 season marks the 20th anniversary of the organ!
For more information, email the church office at officemanager@claremontucc.org.
The newly formed CUCC Arts Guild works with our congregation and surrounding organizations to support local artists and provide a venue to display art within our community. We are lucky to have many pieces of art on our campus that were created by such influential artists as Millard Sheets and Burt Johnson. 
For more information, email artsguild@claremontucc.org.