WORSHIP IS TEMPORARILY ONLINE ONLY!
During this time of "social distancing" we have moved our worship service online.
You can participate in the worship service LIVE online via our Facebook page! Simply click HERE to jump over to our Facebook on Sunday morning. We go live a few minutes before 10:00 am!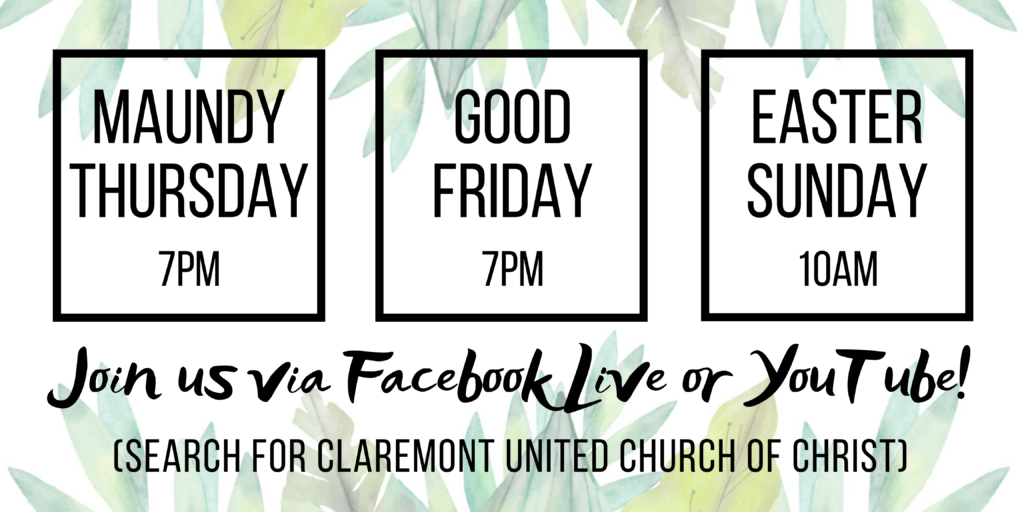 Join us this week for our online Holy Week services!
facebook.com/UCCClaremont
YouTube.com/c/claremontunitedchurchofchrist
MAUNDY THURSDAY, 7PM
Bring your favorite comfort food or drink to the livestream as we engage in a very special communion and meditation service remembering Jesus' Last Supper with his disciples.
GOOD FRIDAY, 7PM
Join us for a hauntingly beautiful evening of Scripture and music as we journey with Jesus to the cross and put our hope in the promise of resurrection on Easter. Attending this service makes the celebration of Easter so much more powerful!
EASTER SUNDAY, 10AM
Join our Easter brass and phenomenal soloist Alexandra Taylor as we tune-in with hundreds across the country for our grand Easter celebration.
OUR MOST RECENT LIVESTREAM
All of our worship services are now available for viewing on Facebook, YouTube, or right here on our website's homepage!
To visit our YouTube page, CLICK HERE.

WE CAN'T WAIT TO WELCOME YOU
Claremont United Church of Christ is LGBT Friendly and is part of the United Church of Christ, a mainline Protestant tradition. We can't wait to welcome you to one of our worship services! You will find a friendly congregation where you can think for yourself and grow spiritually. We believe in putting our faith into action to care for our community and world.